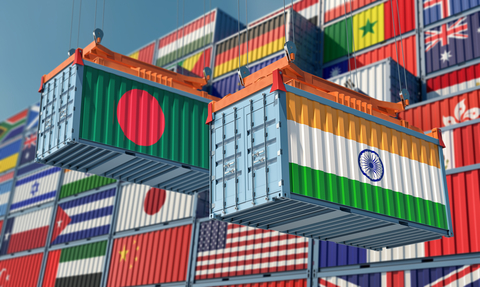 13 Sep

Bangladesh exporters eye Indian seaports after country's offer for toll-free transit

In a major development, India has offered Bangladesh toll-free transit facilities for exporting and importing goods to and from third countries using its seaports.

India will also not take transit fees from Bangladesh to export goods to Nepal and Bhutan via its territory.

Indian prime minister Narendra Modi made the offer to Bangladeshi prime minister Sheikh Hasina when she visited New Delhi last week on an official visit.

"The Indian side informed that it has offered free transit via its territory to Bangladesh for exporting its products to third countries, through specified land customs stations/airports/seaports," the two counties said in a joint statement.

"The Bangladesh side also requested rail connectivity with Bhutan through the newly inaugurated Chilahati – Haldibari route. The Indian side agreed to consider the request, based on its viability and feasibility," continued the statement.

The Indian side also reiterated its request to work towards the expansion of the bilateral Coastal Shipping Agreement of 2015 to include third-country Exim cargo transportation by vessels plying the coastal route.

Bangladesh and India also agreed to expeditiously explore direct shipping links between the two countries, according to officials.

Bangladesh is surrounded by India on three sides, so its trade with landlocked Nepal and Bhutan must be conducted through Indian territories.

India, meanwhile, has been granted seaport, inland water, and land-based transhipment facilities through Bangladesh territories to transport cargo from West Bengal to the land-locked north-eastern states, reducing the distance to just a few hundred kilometres instead of some 1,600 kilometres.

"Many of the Indian states are seeking transit through Bangladesh territories," commerce minister Tipu Munshi told the media on Saturday. "And also India's side asked to know if we want to use their ports for Exim trade."

He said a bilateral high-level committee will sit together and take decisions on these.

Bangladeshi businesses applauded the Indian offer as it will facilitate their Exim trade significantly, enabling them to send and receive cargo while avoiding Chittagong port, which often faces congestion.

"Already many traders export apparel using Indian airports to save costs. If they find the costs reasonable, they will also use seaports there," said a director of Bangladesh Freight Forwarders Association.

Abul Kalam Azad, a Narayanganj-based garment exporter, said if the provision of transporting third country export cargo using coastal ships is enabled, Bangladeshi exporters will increasingly use Indian seaports.