16 Aug

Coronavirus lockdown at China's export showroom Yiwu clouds Christmas order outlook

A coronavirus lockdown in the Chinese manufacturing hub of Yiwu – home to the world's largest small commodities market – is clouding the outlook for the country's biggest export season ahead of Christmas.

The city in eastern Zhejiang province was put under a three-day lockdown on Thursday, the local government said on its official WeChat account at 3am.

Factories were ordered to cease production unless they made medical products or daily necessities, or were on the city's "white list", which allows certain industries to continue operating to minimise supply chain disruption.

All other commercial activities, including the international wholesale market and restaurants, were also suspended, the notice said
Coronavirus stealing Christmas cheer from Yiwu, China's hub for seasonal product production
Vehicles have been banned from entering or leaving the city, except those related to coronavirus control and delivery of necessities.
China's zero-Covid containment strategy relies on stringent lockdowns, mass testing and quarantine in government facilities to protect people. But the policy has severely disrupted businesses, frustrated foreign investors and slowed economic growth.
"Now is peak production season, and the current suspension makes deliveries very difficult," said one local resident who works for a Christmas decoration manufacturer and exporter but declined to be named.
"We make prototypes [of the products] at the beginning of the year and deliveries start in March, most of them end in mid-October. As of now, we've completed 70 per cent of the orders, so it's in the semi-finishing stage."
The person said some deliveries might be delayed, but that would depend on the pandemic situation. Orders were already down this year because purchases from Russia and Ukraine have been slashed.
Some two-thirds of the world's Christmas products are estimated to be made in Yiwu, which is home to scores of factories, showrooms and stores.
The owner of another Christmas decoration factory, who only gave his surname Wang, said snarled logistics around the city had also caused problems.EVERY Saturday by submitting, you consent to receive marketing emails from SCMP. If you don't want these, tick hereBy registering, you agree to our T&C and Privacy Policy
"A lot of places have been put under lockdown, many accessories we ordered can't be delivered to our factories," said Wang, who has been in the Christmas products business for more than 16 years.
Peak production season was almost finished at his factory, he said, with many clients worried about disruptions caused by the pandemic placing orders much earlier this year.
Yiwu reported its first four confirmed cases in the latest outbreak on August 2. Since then, it has reported 500 infections in total, according to local authorities.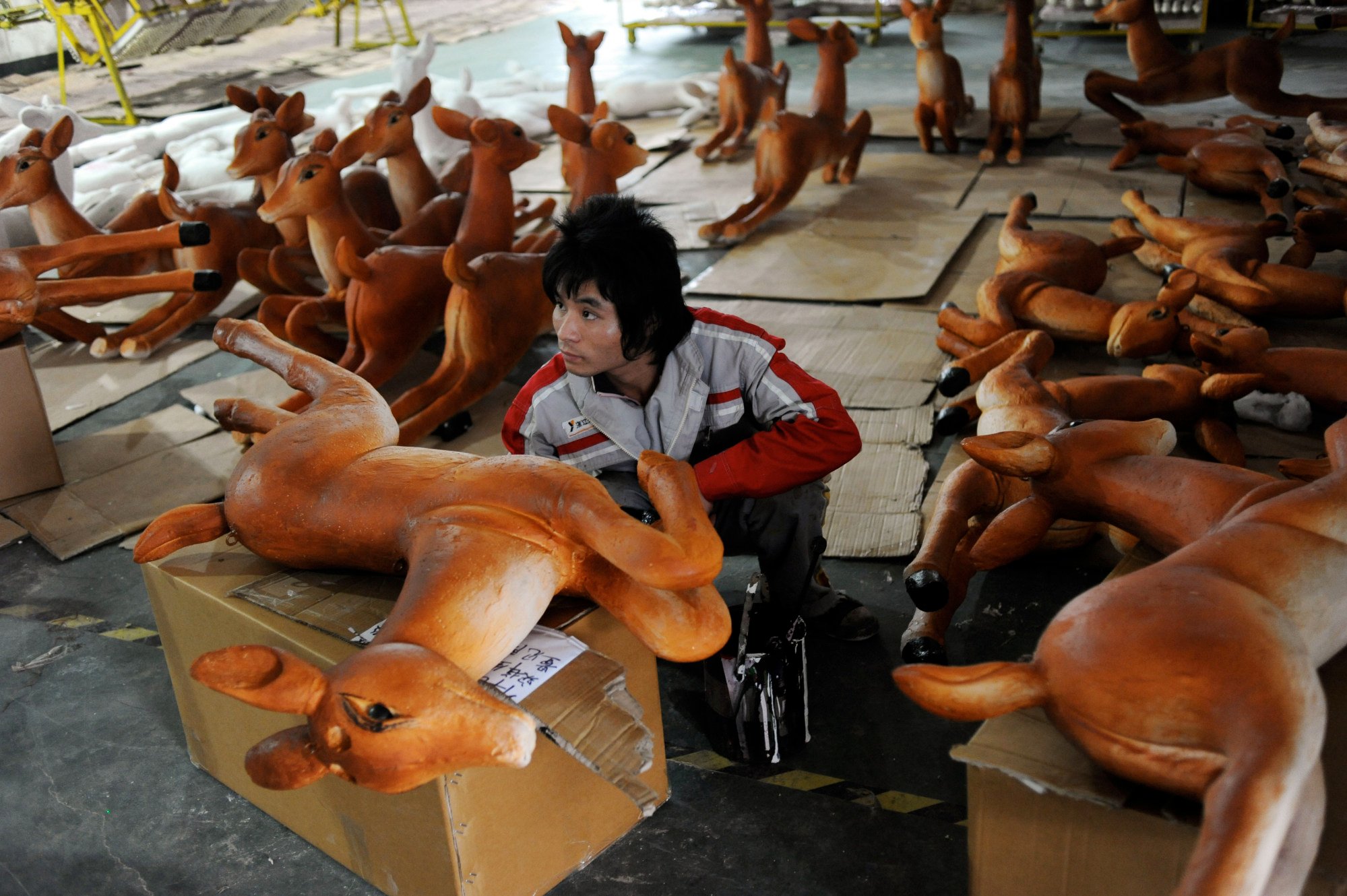 Before the pandemic, Christmas products made in Yiwu were exported to more than 200 countries and regions.
The outbreak came after the Zhejiang government began organizing chartered flights for overseas buyers and investors to Yiwu in an effort to stabilize foreign trade and investment.
Authorities were also concerned the city's status as an international manufacturing hub could be in danger due to China's strict quarantine measures for overseas arrivals.
Before the pandemic, products made in Yiwu were exported to more than 200 countries and regions and over 560,000 foreign buyers visited each year, according to official figures. More than 15,000 foreign businesspeople from more than 100 countries and regions were also stationed in the city.
A chartered flight carrying 163 merchants from Pakistan bound for Yiwu landed in the provincial capital of Hangzhou on July 30, the official Jinhua Daily reported.
On Tuesday, another chartered flight carrying 107 Indian businessmen also arrived in Hangzhou. They are due to head to Yiwu after completing their hotel quarantine, the Yiwu government said on its official WeChat.https://open.spotify.com/embed/episode/6oAsc2Xrv23H5wTPMSoH3W?utm_source=generator
China's exports recorded a surprise surge in July, growing by 18 percent from a year earlier to US$333 billion, according to data released by Chinese customs on Sunday.
Container shipping costs from China have plunged in recent months, despite heading into the traditional peak shipping season.
A 40-foot container from Asia to the US west coast fell by 11 percent over the past week to US$5,939, which is 62 percent lower than the same time last year, according to Freightos Baltic Index.
The price of sending a 40-foot container from China to Europe has also dropped from a peak of around US$17,000 to around US$8,000, according to Xu, a shipping agent based in Jiangsu province who only gave his surname.
"The main reason for the plunging shipping price is the lack of goods to be shipped in the market," Xu said.