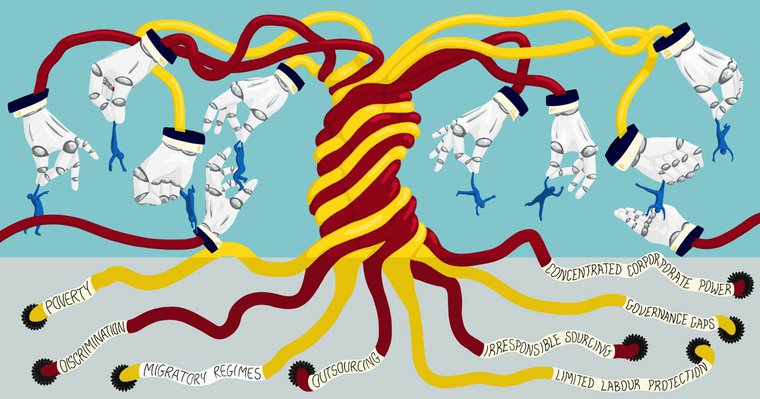 07 Sep

Forced Labour and the Supply Chain

On June 21 this year, US Customs and Border Protection (CBP) began enforcing the Uyghur Forced Labour Prevention Act (UFLPA). The import of goods made with forced labour has been illegal for some time in the US, and this new Act extends the reach of CBP to block the import of goods made with forced labour.

In the past, CBP issued "withhold release orders" and "findings" on imports from specific companies and/or specific countries, when there was a reasonable suspicion to detain the goods. The importer would then have 30 days to demonstrate that the product was not made using forced labour.

Under the new UFLPA, CBP will be able to detain or seize any and all goods that were made, in whole or in part, with inputs from China's Xinjiang Uyghur region, on the presumption that the goods were made using forced labour. Importers will have 30 days to demonstrate that the goods were either not made using forced labour, or that the goods did not include any inputs from the Xinjiang region.
Importers at risk
Down the road, certain companies located in that region or outside of it will be specifically designated in the Act. This may help importers, but because the prohibition applies to goods made in whole, or in part, and applies to companies that may or may not be located in the Xinjiang province, US importers of products from anywhere in the world are at risk.
Materials from Xinjiang can be used to make goods outside China as well. Importers must therefore demonstrate documented due diligence with their suppliers and be in a position to prove the absence of forced labour components in their imports. With this, the risks of delays, disruptions and additional costs, including penalties, have increased. This is another example of the extraterritorial reach of US laws.
This new law also highlights the importance of environmental, social and governance factors and their impact on supply chain management. Diversification of supply sources is key to successful procurement strategies to mitigate the risks of disruption, but it comes with the need for strong internal compliance processes.
Regulatory reviews now have to include forced labour, not just from a Canadian perspective but also with full awareness of what's happening in the US, the first destination for our exports. And since the vast majority of our exports are made under the DDP Incoterm (or the UCC term, FOB Destination) and the Canadian exporter becomes the Importer of Record in the US, many Canadian companies are on the hook for this.
This new law could also remind us that there has been a long-standing US ban on cotton imported from Turkmenistan over findings of state-enforced slave labour in that Central Asian nation, so China is not the only origin to watch. The message to Canadian importers/exporters therefore is: Keep your eyes open!
Canada lagging
Canada is perceived by our American neighbours as lagging behind. CUSMA has provisions dealing with labour and environmental protection that include banning the entry of goods produced by slave labour. Following the implementation of our new North American trade deal in 2020, we amended our Customs Tariff Act to prohibit forced-labour imports, but Canada has yet to stop a single such import.
In October 2021, the CBSA seized a shipment of clothing arriving from China at the Port of Montréal, but it was subsequently released after the importer challenged the seizure. By comparison, in 2021, the US seized over 1,400 shipments of goods made with forced labour from China and other countries.
Critics of the situation in Canada also point to a 2018 Australian study called the Global Slavery Index which estimated that $185 billion of goods imported in Canada were at risk of being made by forced labour at some point in the supply chain.
Across the Atlantic in the meantime, the European Union launched a public consultation in June on their proposed regulation that would prohibit making available on the EU market any products made, extracted or harvested with forced labour, whether they are made in the EU or elsewhere. The EU approach is different from the US. Due to legal differences between individual EU countries, the union is not directly targeting the entry of such products, but instead will ban the placing of such products on the European market. This is planned for the third quarter of 2022.
Sometimes though, there are good news stories and things can get easier. At a meeting between Canada's international trade minister and the US trade representative in July, it was announced that Trump-era tariffs on Canadian-made solar products will be scrapped. These had been imposed in 2018, resulting in an 82-percent drop in our exports of solar products to the US. In February, a CUSMA dispute resolution panel found that the US was in violation of its obligations under our free trade agreement.
As supply chain management gets more complex, we'll take these good news stories anytime.