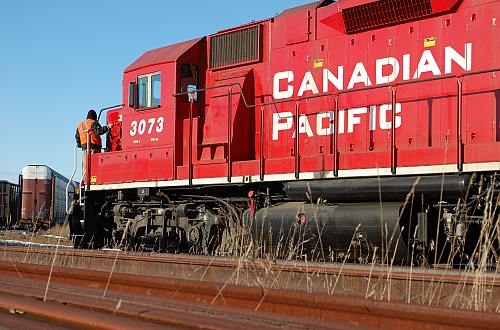 01 Nov

Frustrated shippers caught in Canadian rail congestion call for help

Predictions that congestion at rail yards in Canada's interior would ease this month and next are not playing out so far, prompting frustrated importers and forwarders to ask for government intervention.

The problems are most pronounced at rail hubs around Toronto and Montreal.

"The Montreal rail terminal situation is still bad to very bad," reported Karl-Heinz Legler, general manager of Rutherford Global Logistics, adding that the forwarder's Toronto office describes the situation there as even worse.

Truckers have waited up to nine hours to collect cargo in Montreal, sometimes arriving at the terminal having been told containers are available, only to find they are still on the rail cars, he said.

Congestion disrupted intermodal flows to Canada's large markets throughout the summer. Industry executives predicted improvement in autumn but this has failed to materialise so far, despite a decline in waterborne imports from Asia.

According to one forwarder, Canadian Pacific has initiated an embargo for containers from the west coast to Montreal for most of the last week of November.

In August, Canadian National (CN) set up relief container yards around Toronto and Montreal, pledging to move boxes as close as possible to their destinations, and charged customers shuttle fees ranging from $300 to $550.

According to the Canadian International Freight Forwarders Association (CIFFA), the situation has been exacerbated by government efforts to help reduce congestion at west coast container gateways (notably Vancouver), which only served to push the problem to inland rail facilities already struggling to cope with volumes.

Now, forwarders and importers are looking to the authorities for help to fix the problem. Bruce Rodgers, executive director of CIFFA, has asked federal agencies like Transport Canada and the Canada Border Services Agency to help.

"Recent decisions by government to clear the backlog at the Pacific gateway only resulted in a worsening situation. Without foresight, decisions were made, not to work on a solution to the problem, but to shift the burden inland."

Trucking interest groups have also called for government intervention.

Flows from the port of Vancouver have suffered several massive disruptions from severe weather over the past couple of years, which prompted Ottawa to set up a task force to address supply chain issues.

Transport Canada released a report on supply chain problems in early October, in which it suggested policies – from addressing the labour shortage to supply chain data flow and digitisation – and also proposed the creation of a supply chain office to concentrate Ottawa's approach to transport issues.

Industry bodies have welcomed the recommendations, but companies argue there is a need for immediate measures to deal with current issues. Their frustration with lack of improvement in supply chain flows is aggravated by storage charges levied by the rail companies.

"Trucking companies have no choice but to pass on increased operating costs and have to refuse, in many instances, container haulage because their equipment is tied up at terminals," said Mr Legler.

"Freight forwarders often get stuck between clients refusing to pay extra charges beyond their control and there are horror stories of uncollectable charges for some, exceeding C$100,000 (US$73,484)," he added.

According to forwarders, the rail companies have not shown any leniency on those charges, a stance that angers importers and forwarders in light of the railways' profits. CN tabled record results for the third quarter on 25 October reporting a 26% increase in revenue and a 44% surge in operating profit.